A powerful Executive MBA Network.
Data-driven tools for professional growth.
Stay confidential
Explore opportunities securely and confidentially. Unsearchable by companies, your information is 100% confidential.
Leverage your EMBA network
Engage, network, explore opportunities, and build life-long, meaningful professional connections with our pre-vetted community.
Explore unpublished jobs
Be the first to know! Explore opportunities shared by members of the community and by employers.
Attend exclusive events
Join a global community of top-tier executives and attend exclusive networking events to strengthen your connections.
Executive resume evaluation
Analyze your current resume and develop its most impactful version for various levels, functions, and industries.
Career progression intelligence
Leverage our patent-pending career path tool to put yourself on a streamlined career progression path.
Peer Network
Build your pre-vetted sounding
board, be a mentor or advisor for
others, and explore opportunities
confidentially
Extend your EMBA network beyond your program
and meet with alumni from other top-tier institutions.









Numbers speak for
Themselves
9
Average Number of transferrable Skills
16
Average Years of Experience
79
Directors Level or Above
87
Confidentially Exploring New Oppurtunities
74
Have Multi-functional Experience
AI AT YOUR SERVICE
The power of data to achieve your goals.
Assess your current profile and measure it against your career goals.
Get industry-specific insights and plan your career transition.
Get a customized career path with actionable tips to prepare your next steps.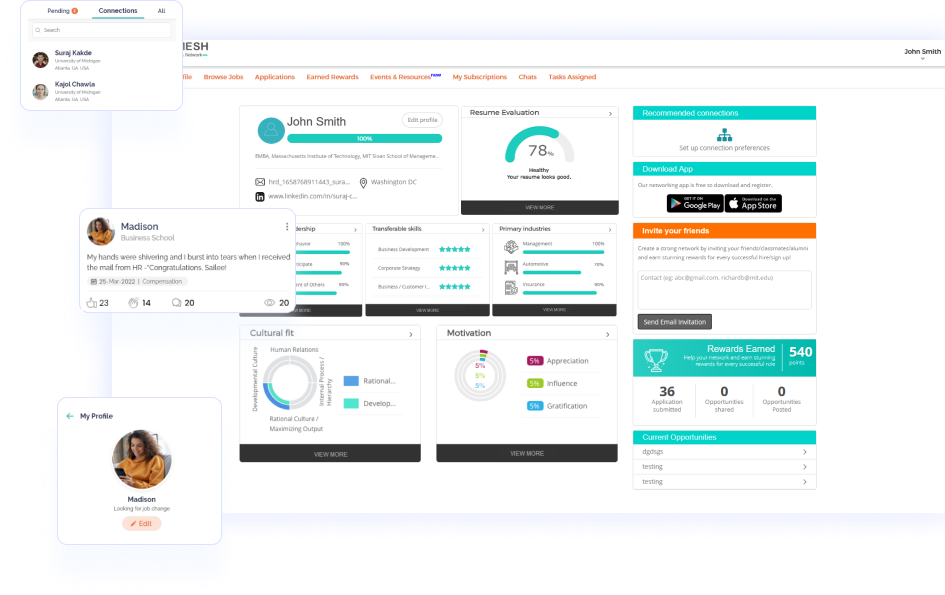 GeniusMesh really proved to be genius for me! Within a few days of joining, I got the opportunity to speak directly with a hiring manager and MIT alum. After initial discussions, a new VP, Strategy and Business Development role was created for me. I got a role with much more responsibility and growth prospects than I could have found otherwise.
After spending 15 minutes taking a detailed assessment survey, I was able to identify key leadership traits and transferrable skills I could use to better focus my search. In my opinion, self-awareness is the key for a successful career transition. I highly recommend CareerPath to every executive who is focused on a successful career transition.
The CareerPath report gave me valuable and transparent insights into my overall profile. With the report, I was able to improve my resume using key action verbs, compare my core strengths with targeted roles and develop a plan to transfer my skills to ancillary industry sectors. I would recommend all my peers to try out the functionality to learn more about themselves.
I love the CareerPath product! The career evaluation tool opened my eyes to new industries and opportunities I should be focusing on. And the resume tool highlighted several problematic areas, even after I had paid a professional to work on my resume!
When I decided to join INSEAD EMBA, I got to know about GeniusMesh, probably the only platform that brings EMBAs aplus top business schools to share their journey, challenges, build a community to help each other. GeniusMesh platform facilitates networking of EMBAs and share their willingness to help each other grow, which is key to success at an executive level.
Gunjan Kumar, EMBA INSEAD
I am happy to have joined this platform, attended many networking events and have built great relationships. I am glad that someone is focusing on EMBAs by giving them a unique platform to connect and grow. I am also impressed with the other services offered by the GeniusMesh that goes beyond just networking. There are many of EMBAs as hiring managers as well as senior leaders looking for talent and business collaboration. We can leverage this network to explore unpublished opportunities with fellow EMBAs.
Gunjan Kumar, EMBA INSEAD